Branch Locations & Hours

Garfield Park
---
705 Woodrow Avenue
Santa Cruz, CA 95060-5950 (

View Map)
Garfield Park: 831-427-7709
Telephone Reference: 831-427-7713
Branch Services — Beyond Books...
About the Branch:
Square Feet: 2,343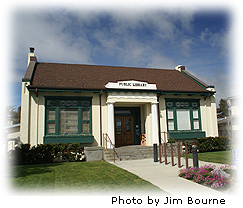 The Garfield Park Branch Library was the second Carnegie library built in Santa Cruz, after the downtown "Main" branch.
After receipt of a $3000 grant from the Carnegie Corporation, the site was chosen in February 1914, on two lots at the corner of Naglee and Garfield Avenues. William H. Weeks, who designed the three other Carnegie libraries, was chosen as the architect. W.A. White won the bid for construction at a cost of $2,615, and construction began in November 1914. The building, designed in the mission style, opened in July 1915, with an assembly room, a large reading room, and a large fireplace.
Over the years, the Garfield Park Branch Library has been closed at times: for six weeks from October to December 1919, it was "Closed on account of Flu." (This was the Influenza epidemic that followed World War I.), and the building was closed on July 7, 1978, along with three other libraries in Santa Cruz County, after the passage of Proposition 13. A neighborhood group (Westside Neighbors) succeeded in convincing the Santa Cruz City Council to restore the branch, and it reopened on September 6, 1978.
Since 1995 the branch has been operating under an LSCA (Library Services and Construction Act) grant for services to young adults. As a result of this grant, hours were increased, new materials for young adults were purchased, and a small network of public-access computers was installed at the branch. The new computers, different from the work terminals and Public Access Catalogs added in 1985, gave library users access to the Internet and to informational and educational CD-ROMs. Garfield Park Branch created a web site, and began publishing an Electronic Newsletter written by local young adults. The passage of Measure B in November 1996 enabled the library system to continue focusing services on young adults at Garfield Park, and to further increase the branch's hours.
In April 1992 the building was listed on the National Register of Historic Places, and on July 28, 1999, it was officially designated as a Landmark on the City Historic Building Survey. The building was expanded in 2002, increasing the square footage from 1,300 to 2,300 square feet, and adding public restrooms, a staff work room and break room, and an office for the branch manager.
Branch Hours
Sun

Closed

Mon

10 AM - 5 PM

Tue

11 AM - 6 PM

Wed

11 AM - 6 PM

Thu

11 AM - 6 PM

Fri

1 PM - 5 PM

Sat

10 AM - 2 PM