Search for a Title
Browse
Magazines & Newspapers @ SCPL
---
About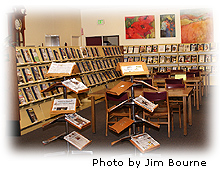 The Santa Cruz Public Library system subscribes to hundreds of magazines and newspapers on a wide variety of topics. In addition to the "in-library" collection, we also subscribe to a number of subscription databases that allow you to read full-text articles online.
Which magazines and newspapers does SCPL own?
You can browse a complete list of our periodical holdings using the links and menus to the left. Magazines and newspapers are organized alphabetically by title, by branch and by subject. If you would like to see if we carry a particular magazine or newspaper, use the search box on the top left.
What about magazine downloads?
We also offer electronic access to a variety of magazines through RBdigital eMagazines, a service which allows you to read and search magazines online. To use RBdigital eMagazines, you'll need to create an account with RBdigital using your email address and library card number.