Branch Locations & Hours

Felton
---
6121 Gushee St.
Felton, CA 95018 (

View Map)
Felton: 831-427-7708
Telephone Reference: 831-427-7713
Branch Services — Beyond Books...
About the Branch:
Square Feet: 9000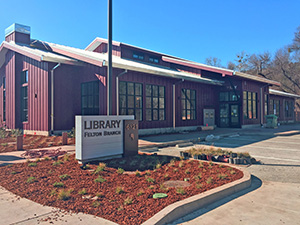 A newly constructed Felton Branch Library opened on February 22, 2020 just down the street from its old location. The structure that was previously the Felton Branch Library was built as the Presbyterian Church in Felton in 1893. Constructed in a traditional, New England style the building served the Presbyterians until 1955, when a larger facility was built nearby.
The vacant building was then purchased by Nick and Faye G. Belardi with the intent of dismantling the structure and building a family home on the site. At the same time, the Felton Branch of the Santa Cruz Public Libraries was looking to move out of a room in the Community Hall into a larger facility. The local community developed a plan to not only save the old church building but also establish a larger library in town by moving the church building to a vacant spot on the old Felton school grounds. Negotiations for purchasing the building were underway when Mrs. Belardi was killed in an auto accident in August of 1955.
Following Mrs. Belardi's death, Mr. Belardi offered the building and site to the community as a memorial to his wife. Renovated by March 1956, the Faye G. Belardi Memorial Library was formally opened on April 15, 1956.
Branch Hours
Sun

10 AM - 5 PM

Mon

10 AM - 7 PM

Tue

10 AM - 7 PM

Wed

10 AM - 7 PM

Thu

10 AM - 7 PM

Fri

Closed

Sat

10 AM - 5 PM