Branch Locations & Hours

Aptos
---
7695 Soquel Drive
Aptos, CA 95003-3899 (

View Map)
Aptos: 831-427-7702
Telephone Reference: 831-427-7713
Branch Services — Beyond Books...
About the Branch:
Square Feet: 8,000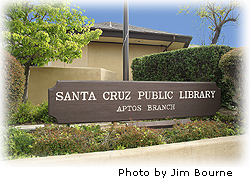 The original Aptos branch library was founded in 1944 on Trout Gulch Road. Instrumental in getting the library started was its first librarian, Mrs. Helen Wikkerink. By 1964 the branch had become too small to serve the needs of the community, and in October of that year, the library moved to a more spacious location at the Rancho del Mar shopping center. The new location more than tripled the available space, and enabled the library to double its volume to around 10,000 books.
By 1970, the Aptos branch was the fastest growing branch in the library system, and it had again outgrown its space at the shopping center. The search for a new library site began in early 1972, and the current site was chosen in July of that year. Spencer, Lee and Busse, the same architectural firm that designed the Central and Branciforte libraries, was chosen to design the new library, at a cost ranging from $262,300 to $342,825. By the time plans had been submitted, revised, and approved, the total cost of the project had risen to $367,746. Construction bids were solicited, and the low bid of $349,325 by Engineering Maintenance Inc., of Santa Clara, was accepted. Construction proceeded rapidly throughout the fall of 1974, and it was hoped to be completed in March of 1975.
The Rancho del Mar building closed on June 23, and the new Aptos branch was dedicated on Saturday, June 28, 1975. The new branch included a meeting room, which helps it serve as a community center.
Branch Hours
Sun

Closed

Mon

10 AM - 8 PM

Tue

10 AM - 8 PM

Wed

10 AM - 8 PM

Thu

10 AM - 8 PM

Fri

10 AM - 5 PM

Sat

10 AM - 5 PM