Branch Locations & Hours

Branciforte
---
230 Gault Street
Santa Cruz, CA 95062-2599 (

View Map)
Branciforte: 831-427-7704
Telephone Reference: 831-427-7713
Branch Services — Beyond Books...
About the Branch:
Square Feet: 7,500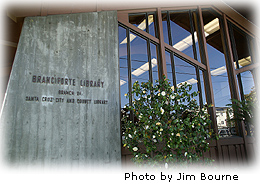 Since early in the 20th century there has been a library on the east side of Santa Cruz. At first it was in the Seabright area, but in 1913 the city obtained Carnegie funds to build a new facility and it was decided to build the new library in the triangle park where Water Street and Soquel Avenue fork off at Morrissey.
World War I put a damper on the plans, but after the war they were revived. Architect William Weeks designed a bracked bungalow reminiscent of some Eastside farm houses, and construction began in September 1920, with opening in September 1921. Total cost of the project was about $4,500; community donations and fundraisers covered the portion exceeding the $3,000 Carnegie grant.
That facility served the Eastside well for more than 40 years, but by the 1950s, funding cutbacks and problems with the site led the city to move forward on a new and larger facility. In November 1964 voters approved a bond measure that included funds to build a new library on Gault Street.
Plans for the facility were drawn up by the firm of Spencer, Lee and Busse, who incorporated elements of Frank Lloyd Wright's techniques to blend styles of an alpine lodge and adobe. Roy Rydell, the premier landscaper in Santa Cruz, designed the grounds, and the new library opened Oct. 8, 1967 during the Branciforte Days festival. It was at that time that the name was changed from Eastside Branch to Branciforte Library.
In 1974 the Santa Cruz Genealogical Society agreed to leave its library materials and a reader/printer at the branch, thus making that information more broadly accessible to the general public. That collection was eventually moved to the Central Branch in 1991.
The Loma Prieta Earthquake of 1989 caused no serious structural damage to the library, but a fair amount of the shelving had to be replaced or re-anchored. Branciforte continues to be a busy and well-used branch of the system.
Branch Hours
Sun

Closed

Mon

Closed

Tue

10 AM - 6 PM

Wed

10 AM - 6 PM

Thu

10 AM - 6 PM

Fri

11 AM - 5 PM

Sat

11 AM - 5 PM