Locations & Hours

SC County Law Library
---
County Government Center
701 Ocean Street, Room 070
Santa Cruz, CA 95060 (

View Map)
Law Library: 831-420-2205
About the SC County Law Library: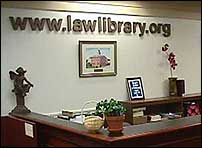 Books and other items at the Law Library are listed in the Santa Cruz Public Library's catalog.
Here are answers to some frequently-asked questions regarding the Santa Cruz County Law Library:
Is the Law Library a branch of the Santa Cruz City-County Library System?
No. The Law Library is independent of our system. The project which involved adding Law Library materials to the SCPL catalog was a joint venture to help provide better access to legal material.
Is the Law Library open to the public, or just for attorneys and others in the legal community?
The library is open Monday - Thursday 8am - 3pm, and Friday 8am - 12pm in the basement of the County Building, 701 Ocean Street. Anyone can use the collection and obtain assistance from staff.
How can I tell a book is at the Law Library?
In the Library Catalog, the location of the book will show as "Lawlib."
Can I request Law Library books for pickup at SCPL branches, just like I can with our books?
No. All material is for reference use only at the Law Library.
Why do the call numbers for Law Library books look different?
The Law Library collection is cataloged using the Library of Congress Classification System (the same as used at the UCSC libraries). SCPL uses the Dewey Decimal system.
Will new books at the Law Library continue to be cataloged by SCPL?
Yes. We will continue to catalog new reference material as it arrives. Once each week, our delivery van will stop at the County Building to pick up new books and drop off newly cataloged material. Outdated material will be sent to us for withdrawal from the catalog.
Are there internet computers at the Law Library?
Yes. The can be used by the public, but for "legal research" only. Law Library staff have the discretion of defining what is "legal research" and setting policies for internet access.
Will staff give legal advice?
No. Just as in our system, Law Library staff are not attorneys and do not provide legal advice. But they do have the knowledge and expertise that comes with working with a special collection and handling legal questions on a daily basis.
Will Law Library staff answer questions over the phone?
Perhaps. If the question can be answered quickly without tying up the phone line for a long period of time, or does not require in-depth research, they may be able to provide an answer. Another factor is busyness. Usually there is one staff person on duty to cover both walk-in and telephone queries.
For further information, see the Law Library's website.
Branch Hours
Sun

Closed

Mon

8 AM - 3 PM

Tue

8 AM - 3 PM

Wed

8 AM - 3 PM

Thu

8 AM - 3 PM

Fri

8 AM - 12 PM

Sat

Closed