Branch Locations & Hours

Scotts Valley
---
251 Kings Village Road
Scotts Valley, CA 95066 (

View Map)
Scotts Valley: 831-427-7712
Telephone Reference: 831-427-7713
Branch Services — Beyond Books...
About the Branch:
Square Feet: 13,150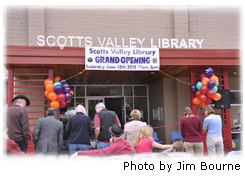 On June 18, 2011 Scott Valley celebrated the Grand Opening of the �new� Scotts Valley Branch library. Planning the new branch began about 20 years ago and the community is very happy to have this dream come true. The new branch is almost 3 times larger than the previous branch and contains the latest technology and several special features including a children�s literacy center, study rooms, a Wii gaming wall in the teen room, and a flat screen media center in the Fireside Room. The entry way displays commemorative bricks sold by the Friends of the Library, Scotts Valley Chapter.
The first Scotts Valley Branch Library was founded in February 1953 and was originally located at 7 Camp Evers Lane. The branch survived Proposition 13 closures in 1978 and a small earthquake in 1984, and moved in 1985 to a store front location in the Kings Village Shopping Center.
Although the shopping center site served library patrons well, there are occasional dramatic drawbacks to this kind of location. On September 24, 1985, a car crashed through the front window of the branch. When it came to a stop, the rear of the car was four feet inside the building; the passengers in the car and the branch manager were slightly injured; and the circulation desk and other nearby equipment were demolished.
In 1989, the City of Scotts Valley and the Library System agreed to increase open hours and staffing and to expand children's services. This process was briefly interrupted by the Loma Prieta earthquake in October, 1989 when damage was sustained to the ceiling and light fixtures in the children's area. The branch reopened after the quake with the area roped off temporarily and the project continued with new children's books arriving in January, 1990.
The 1990's was a decade of ups and downs for the Scotts Valley Library culminating in the redesign, redecoration and expansion of the branch to 5,300 square feet by January, 1998. The newly configured branch was bigger and brighter; public restrooms were added; and a Homework Center for young people debuted in the fall of 1998 which provided educational games, encyclopedias and atlases, as well as word processing and Internet access. Later a quiet place for young children and their parents was added.
After the acquisition of the former Scotts Valley Roller Rink on Kings Village Road, plans were drafted for a 13,000 square feet branch. A Groundbreaking Ceremony at the site of the new library took place on August 14, 2010, and the Grand Opening of the new building was held on June 18, 2011. New areas include a large children's section, teen area, group study facility, two computer banks, an adult multipurpose space, meeting rooms for the community, an outside patio and of course, more space for the library's collection of books.
Branch Hours
Sun

Closed

Mon

10 AM - 7 PM

Tue

10 AM - 7 PM

Wed

10 AM - 7 PM

Thu

10 AM - 7 PM

Fri

10 AM - 5 PM

Sat

10 AM - 5 PM