1,000 BOOKS BEFORE KINDERGARTEN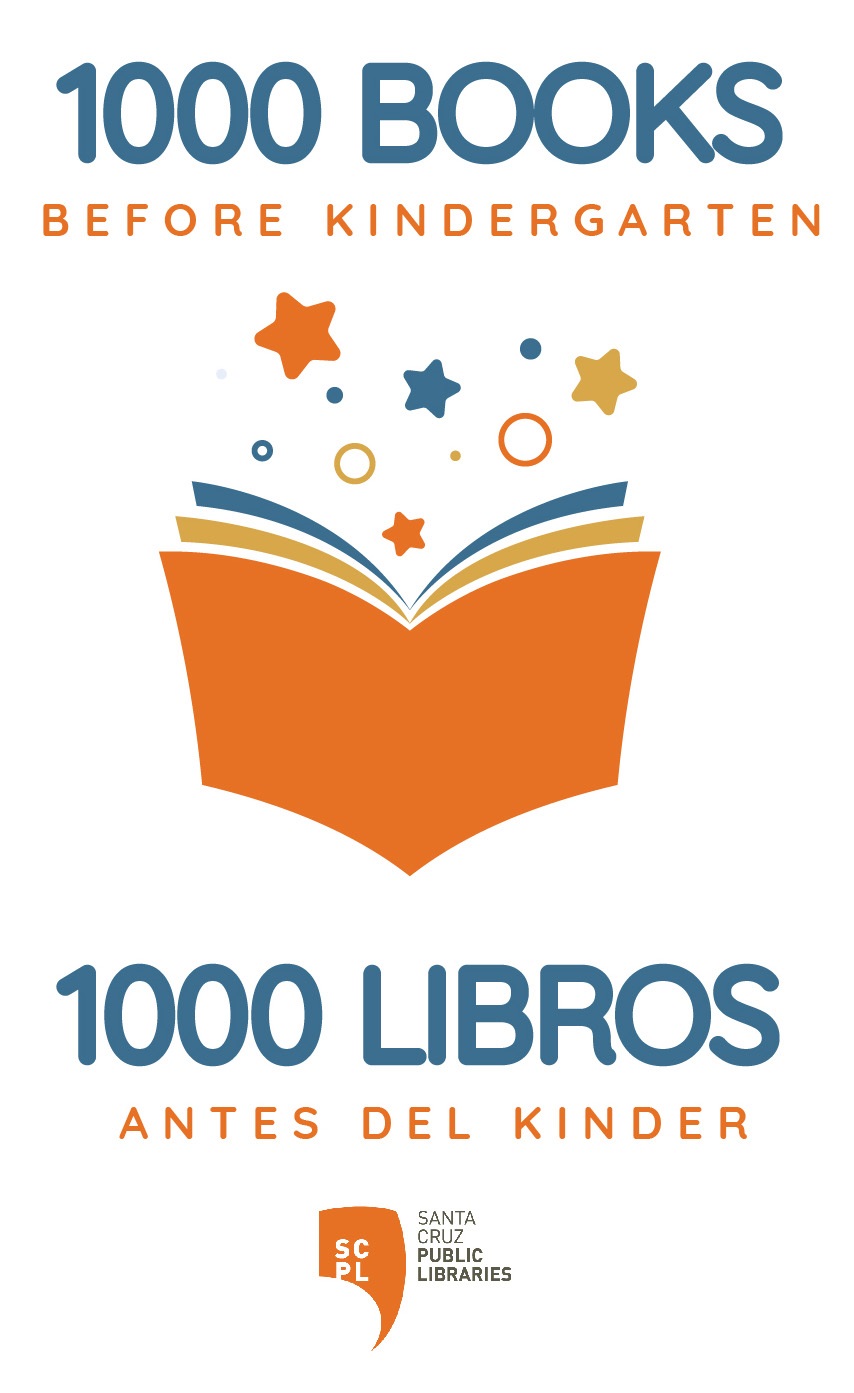 Did you know that reading to your child is one of the most powerful ways to boost his or her brain power? The simple and enjoyable act of sharing books helps your child learn pre-reading skills such as understanding the sounds letters make, developing a bigger vocabulary, and building background knowledge—all important skills that help prepare your child for learning to read and entering kindergarten.
Santa Cruz Public Libraries' 1,000 Books Before Kindergarten program is a fun, exciting, and free way to start your child on the path to success! Any child who has not yet entered kindergarten can participate. Just follow these steps:
Register: Sign up at any Santa Cruz Public Libraries branch or online at santacruzpl.beanstack.org. Pick up program materials at the library or print them from our website (see reading logs below).
Track Your Reading: Fill in a circle or write down each book you read with your child on your reading record.
Every Book Counts: Even if your child wants to hear the same book again and again, you can count it each time. You can also count the books your child hears in storytime, in daycare or preschool, or with a friend or family member, as long as your child listens to the entire book.
100-Book Milestones: Each time you read 100 books, bring your reading record to the library to receive a special reward. Stickers are rewarded for each 100 books read. At 500 books, earn a free book! Each time you receive your prize, take home a new reading record for your next 100 books.
1,000 Books: You did it! Come celebrate at the library, see your child's name placed on the 1,000 Book Wall of Fame, and receive a prize.
Keep on Reading: Don't stop at 1,000! Keep on reading together; there's more learning ahead!
Singing songs, saying rhymes, telling stories, and playing with your child are all great ways to build their literacy skills. Visit the Santa Cruz Public Libraries often for free programs that are fun and educational for your little one and to find great books to share with your child.
One thousand books may seem like a lot, but if you read just one book a night, you'll meet your goal in less than 3 years. If you read three books a night, you could reach your goal in just one year! Ask our friendly staff for suggestions—we're here to help you on your journey to 1,000 Books Before Kindergarten!
Incentive Prizes:
Signup - book bag with instructions, coloring pages, early literacy tips, crayons, mini notebook to keep track of your titles, and an early literacy calendar.
100, 200, 300 and 400 books - earn a sticker.
500 books - earn a free book.
600, 700, 800, 900 books - earn a sticker.
1000 books - earn a goodie prize box, a certificate of completion and put your name on the wall of fame.
Reading Logs
Additional Resources
Coloring Pages/Páginas para colorear
20 Ways to Raise a Smart Baby (English)
20 Maneras de Criar un Bebé Lector (Spanish)
Frequently Asked Questions (English)
Preguntas más frecuentes (Spanish)
Enjoy recordings of storytimes, songs, STEAM programs and more created by our very own librarians on our YouTube channel.
Links to Additional Storytime Resources
It's important to keep reading, singing, playing, talking and learning. Here are a few resources with links to help parents and caregivers continue to provide literacy activities and read-a-loud stories for young children while the library is closed.
JBrary - Evolving List of Storytime resources, including links to virtual storytimes from libraries across the country
Storyline - Famous people reading picture books aloud
IndyPL - 100+ Free Video Read Alouds
Tell Me a Story - King County Library System (WA) offers a HUGE collection of songs and rhymes to sing with little ones
Drag Queen Storytime From the New York Public Library: Drag Queen Storytime: A Video for Children and Parents
Cuento con vos- es una iniciativa que surgió a partir de la cuarentena provocada por el COVID19, con el objetivo de que nuestros lectores siguieran disfrutando de la lectura en casa.
Morning Stories on the Table - Each week, we select a fun story from around the world and adapt them into Chinese in a much more creative way.
TumbleBook Library

TumbleBook Library is an online collection of TumbleBooks--animated, talking picture books which teach kids the joy of reading in a format they'll love. TumbleBooks are created by taking existing picture books, adding animation, sound, music and narration to produce an electronic picture book which you can read, or have read to you. Also included are games and puzzles. TumbleBooks are created in flash animation. You will need the Flash plug-in for your browser and a computer set up for sound.
Go to TumbleBook Library
View Tutorial
READ TO ME Kits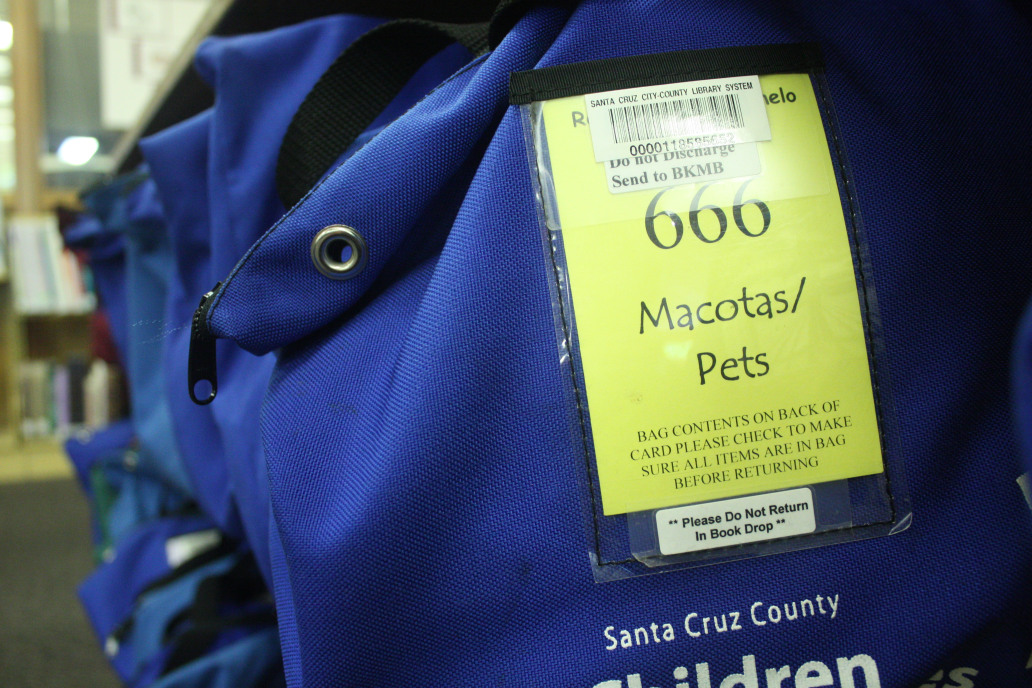 The "Read to Me" or "Leémelo" kits aim to promote early literacy amongst children ages 0-5. The kits contain 10 books and a music CD connected to a common theme. These easy-to-use kits can be utilized in a household, a daycare center or while babysitting to create an interactive and educational reading session. Many kits are bilingual and include resource guides on how the kits can be utilized.
To find read to me kits in our online catalog, search for the terms "read to me kit."