Kermit - the Bikemobile
Mission Statement: To have fun, to meet the community wherever the community may gather, and to provide library services wherever possible.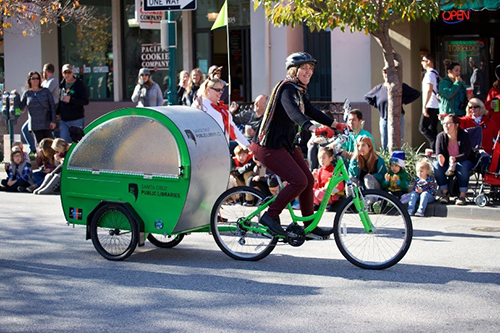 Kermit arrived in Santa Cruz in 2016 and was made possible through a Pacific Library Partnership grant, the Burgeon Group, and the Spokesman Bicycles shop in Santa Cruz.
You can check out books, get a library card, and talk with a library staff person whenever Kermit is out and about. Kermit can usually be found at community events, farmer's markets, parades, and, sometimes, helping the many Little Free Libraries by providing donated paperbacks. And, although Kermit is a bit frog-like, he doesn't like rain so you won't often see him in November through March.
Kermit's Schedule
Kermit is currently unavailable due to Covid-19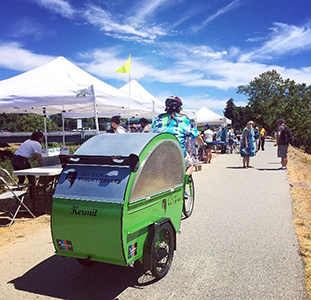 "When green is all there is to be
It could make you wonder why, but why wonder? Why Wonder,
I am green and it'll do fine, it's beautiful!
And I think it is what I want to be!"

~Joe Raposo, "Bein' Green" 1970
SCPL staff available
Mon-Thur 10am-6pm
Fri-Sat 10am-5pm
Sun 1pm-5pm
831.427.7713
Text 831.264.0647