Endangered Species in Santa Cruz County
-
Plants
---
Robust Spineflower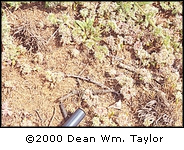 Scientific Name: Chorizanthe robusta var. robusta
Status: E, CH
The Robust Spineflower is an annual herb, member of the buckwheat family; native to California and endemic (limited) to this state alone. It is believed that currently, fewer than 10 populations remain. Closely related to Scotts Valley Spineflower (Chorizanthe robusta var. hartwegii).
Habitat: Coastal and near-coastal areas of Santa Cruz and northern Monterey counties.
Threats: Much of its habitat has been destroyed or degraded by urbanization, agricultural development, introductions of non-native plants for dune stabilization.
To Learn More:
Last updated by phippsa on Oct. 3, 2017
Browse by Status Key
E — Endangered
T — Threatened
CH — Critical Habitat
PE — Taxa proposed for listing as endangered
PT — Taxa proposed for listing as threatened
PCH — Critical habitat which has been proposed
C — Candidate species for which the Fish and Wildlife Service has on file sufficient information on the biological vulnerability and threats to support proposals to list as endangered or threatened
D — Delisted due to Recovery