SCPL News & Announcements
---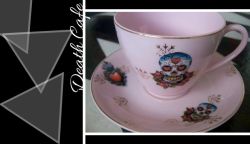 Death Café
Come gather to eat cake, drink tea and discuss death. A Death Café is a group directed discussion of death with no agenda, objectives or themes. It is not a grief support group or counseling session, just some folks getting together to eat cake and talk about death. Talking about death can affirm what's important about life.
Wednesday • December 11 • 10:30am - 12:00pm Scotts Valley Branch Library • 251 Kings Village Rd.
Program provided by Hospice of Santa Cruz County.
Space is limited, please RSVP to Vanessa at Hospice of Santa Cruz County at vsilverstein@hospicesantacruz.org or call 831 430 3047.
View similarly tagged posts: Events, Discussions
Posted by cowend on Dec. 1, 2019 at 12:30 a.m.

Permalink: https://www.santacruzpl.org/news/permalink/999/