SCPL News & Announcements
---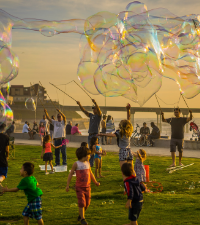 Last Day of School Party
Come celebrate the last day of school! There will be many fun activities throughout the event. The last day of school party is a celebration of summer. Kids can come relax, have a root beer float, play with bubbles, make a craft and sign up for SCPL's Summer Reading Program!
Thursday • June 6th • 12:30-5:00pm
Boulder Creek Library
• 13390 West Park Avenue
Root Beer Floats 12:30-2:30pm
Bubble Fun 12:30-4:00pm
Craft Time 3:00-5:00pm
This event is sponsored by the Friends of Boulder Creek Library
View similarly tagged posts: Kids, SCPL Friends, Summer Reading, Events, Teens
Posted by glassa on May 30, 2019 at 7 a.m.

Permalink: https://www.santacruzpl.org/news/permalink/891/