Endangered Species in Santa Cruz County
-
Plants
---
Scotts Valley Spineflower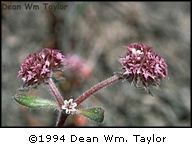 Scientific Name: Chorizanthe robusta var. hartwegii
Status: E, CH
A short-lived annual species in the buckwheat family, the Scotts Valley Spineflower is a low-growing herb with rose-pink margins confined to the basal portion of the teeth and an erect form of growth. The
flowers heads are medium-sized (0.4 to 0.6 inches in diameter) and distinctly aggregate. Each flower produces just one seed; the seeds are 3.5 to 4.0 millimeters (mm) long. Hooks on the spines which surround the seed facilitate seed dispersal. The Scotts Valley Spineflower is one of two varieties of the species Chorizanthe robusta. The other variety, known as robust spineflower, is restricted to sandy soils in coastal and near-coastal areas in Santa Cruz County.
Habitat: Sedimentary deposits of sandstone and mudstone.
Threats: Sand mining and residential development are the main threats to this species, along with its limited habitat and small population.
To Learn More:
Last updated by phippsa on Oct. 3, 2017
Browse by Status Key
E — Endangered
T — Threatened
CH — Critical Habitat
PE — Taxa proposed for listing as endangered
PT — Taxa proposed for listing as threatened
PCH — Critical habitat which has been proposed
C — Candidate species for which the Fish and Wildlife Service has on file sufficient information on the biological vulnerability and threats to support proposals to list as endangered or threatened
D — Delisted due to Recovery