SCPL News & Announcements
---

Author Talk: Jill Cody "Climate Abandoned"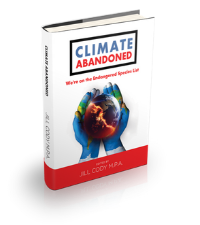 Join us for this informative Author Talk
Former Aptos resident, author, and radio host Jill Cody will be returning to the Library where she wrote her first book, the award-winning America Abandoned.
Her second book Climate Abandoned was just published on Earth Day and it is already ranked as an Amazon bestseller in 3 categories. In her new work, Jill brings together 22 scientists, environmental experts, millennials and faith leaders in a discussion of the hard truths, causes, and consequences of climate crisis. Along with the urgency of the issues we face, she offers guidance on specific actions you can take to protect the environment and move us off the Endangered Species list.
Rick Nolthenius, PhD is the head of the Astronomy Department at Cabrillo College in Aptos, California. The subject of an entire chapter in Cody's book, Dr. Nolthenius will be joining in the discussion. He earned his degree in astronomy and astrophysics after doctoral work at Stanford University and UCLA. He was a member of the Thermodynamics Group at General Dynamics in their space program in San Diego and performed thermal analysis and design for the Atlas/Centaur rocket missions and space satellites, and was thermal systems designer on their proposal for what became the International Space Station. Please join us for this important and informative event.
Sunday • June 30th • 1:30pm -3:00pm
Downtown Library
• 224 Church Street
View similarly tagged posts: Events, Authors, Discussions
Posted by camachoy on June 20, 2019 at 11:45 a.m.

Permalink: https://www.santacruzpl.org/news/permalink/877/