SCPL News & Announcements
---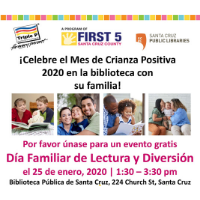 Celebrate Positive Parenting Awareness Month 2020 in the library with your family!
Learn about other local services and supports for children and families. Every family will receive a free book provided by First 5 Santa Cruz County and a chance to win prizes! Get Triple P parenting tips and tools, enjoy story time with librarians, and participate in arts and crafts and other fun activities.
Saturday • January 25th 1:30-3:30pm Downtown Library • 224 Church St.
View similarly tagged posts: Santa Cruz, Kids, Events
Posted by glassa on Jan. 10, 2020 at 10 p.m.

Permalink: https://www.santacruzpl.org/news/permalink/1013/