You Can Do That @ the Library?!
Become a Universal Borrower
If you have a Library Card from another Library in California, you can get one in Santa Cruz for free.
Go to any branch and fill out an application.
---
See our Calendar, Online Catalog or Branch pages for more details and contact information.
SCPL News & Announcements -
Latest Posts
---

Join eBay Power Seller Barbara Mason for this free workshop on successful eBay selling for beginners. Bring your lunch and learn how to increase your sales from an expert.
Small Business Brown Bag: Selling on eBay - Beginner Wednesday September 14 • 12:00pm Downtown Library • Upstairs Meeting Room
Registration Required
The Small Business Brown Bag Series is a collection of free, hour-long workshops designed to support small businesses. Bring your lunch and join us in the upstairs meeting room at the Downtown Branch Library for these great seminars on the second Wednesday of each month.
View similarly tagged posts: Business, Events
Posted by phippsa on Aug. 29, 2016 at 7:21 a.m.

Willing Suspension Armchair Theater
Introducing…The Lucky Few
Our local reader's theater troupe, Willing Suspension Armchair Theater presents readings about the often forgotten generation born between the Greatest Generation and the Baby Boomers, 1929 - 1945. This generation was the first to be smaller in population than the preceding generation, and enjoyed a relatively smooth transition into adulthood during the prosperous 1950's.
All Performance are 7:00pm - 8:00pm
Co-directed by Rita Wadsworth and Stuart Serman, the readers are Bianca Chestnut, Carolyn Hyatt, David Hodgin, John Chandler, Rita Wadsworth and Stuart Serman. The performance is free, and donations to the Troupe are always welcome.
View similarly tagged posts: Events
Posted by phippsa on Aug. 29, 2016 at 7:20 a.m.

Your Library Card: The Most Important School Supply
From kindergarten to graduate school, your library card is the most important school supply you have for academic success! Here are just a few things you can get with your card that will help you do better this school year:
Improve Reading:
Stream hundreds of free read-along books from ABC's to American History on Bookflix and Tumblebooks
Read to a dog or other Therapy Animal at one of our Tales to Tails sessions
Sign up for R.E.A.D. Reach Every Amazing Detail sessions beginning in October 2016
Get help with Homework and Build your Skills:
Live online tutoring from certified teachers, skill building exercises, test prep, and more with Brainfuse HelpNow
Trueflix and Scienceflix offer streaming books and videos for different learning styles to give you the edge in Science, Nature and History, including projects!
Attend Homework Help sessions at a branch library beginning in October
Test Prep
Academic Research
And don't forget, your friendly library staff are always there to help you find what you need!
View similarly tagged posts: Website, Santa Cruz, Kids, Services, Electronic Resource
Posted by cowend on Aug. 24, 2016 at 6 a.m.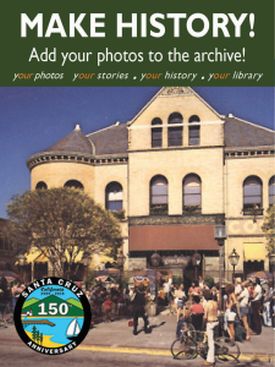 Make History!
In celebration of the 150th Anniversary of the City of Santa Cruz, we'll be holding Snapshot Stories; an event that captures our local history and connects us to our community across generations. Bring your family's historical snapshots (from long ago or just last week). The photos will be scanned and returned along with a USB flash drive containing an electronic copy of the photo. Your photos will become part of the Santa Cruz Public Libraries' Local History Photo Gallery.
SnapShot Stories Community Scanning Event Saturday, September 10 • 12:00pm - 4:00pm Santa Cruz Museum of Art & History 705 Front St. Santa Cruz
This event is just one of many throughout the month of September in celebration of the City of Santa Cruz 150th Anniversary, culminating in a 150th Anniversary Beach Party on October 1st. The entire community is invited to participate in the many activities that have been planned to honor the occasion. For more information on these events, visit www.cityofsantacruz.com/150anniversary.
Snapshot Stories is a partnership project between the Santa Cruz Public Library System and the Santa Cruz Museum of Art & History. Past partners have included the UC-Santa Cruz McHenry Library and the San Lorenzo Valley Museum. It was launched in 2013 to capture local history and connect the community across generations. Special Thanks to Researchers Anonymous.
For more information contact the Program Team at pro@santacruzpl.org or (831) 427-7717.
View similarly tagged posts: Local History, Santa Cruz, Events
Posted by cowend on Aug. 19, 2016 at 6 a.m.

Citizen Science: Adventuring & the Brain
Thrill of Risk, Joy of Reward
Most athletes and adventurers hone specific skills for high level excellence. While confidence comes from skill, courage comes from learning to manage fear in first-time experiences. Using insights gained during a lifetime of extreme adventuring, Smith re-frames risk as a positive force for enhanced creativity, performance, and brain stimulation. He shows how risk-taking can be an invaluable everyday tactic, not just an occasional strategy. Copies of his books will be available for sale.
Thursday September 1st • 6:30 - 8:00pm Downtown Library • 224 Church St.
Presenter David Miln Smith is an author and adventurer. "The Spirit of Adventure is a light within each of us. With it, we are all capable of extraordinary feats. Without it, fear wins." ---David Miln Smith
Citizen Science is a collaboration between the Santa Cruz Public Libraries; the Santa Cruz Museum of Natural History (SCMNH), the Santa Cruz Children's Museum of Discovery (SCCMOD) and the University of California, Santa Cruz (UCSC).
We invite you to join us every first Thursday of the month for a presentation and Q&A with local experts and researchers in the field discussing life science, ecology, geology, genetics, climatology and more. Let's connect, inspire and inform each other!
For more information contact pro@santacruzpl.org • 831-427-7717
View similarly tagged posts: Events, Teens, Citizen Science
Posted by phippsa on Aug. 17, 2016 at 9:02 a.m.