Outreach Services -
Did You Know?
---
Unshaken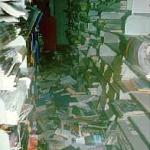 Outreach & the Loma Prieta Earthquake
At 5:04 PM on October 17th, 1989, Outreach worker Catherine Steele and her assistant were about a hundred yards down the road from Murphy's Camp, a migrant farmworker housing facility. They drove into the camp and began translating into Spanish the English-language radio broadcasts which at that point were the only news coming in from the outside world. They continued for two and half hours, until Spanish language broadcasts began.
Catherine worked round the clock for the next two days. Along with other library staff, she answered Community Information Service phones at the Civic Auditorium, Then, until mid-December, she served as a translator for Red Cross staff who helped to find permanent housing for hundreds of displaced people in and around Watsonville.
View similarly tagged entries:
Websites
Local history
Loma Prieta Earthquake and the Santa Cruz Public Libraries -- Outreach remains unshaken
Last updated by phippsa on Aug. 10, 2017
Disclaimer...
While the Library has verified the information presented in these files in what it considers to be reliable and authoritative sources, it cannot take responsibility for nor guarantee the accuracy of the information presented.
Browse "Did You Know?" Topics