SCPL News & Announcements
---

Play it Forward Santa Cruz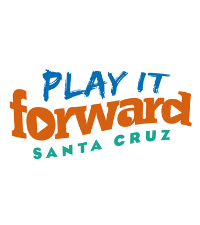 A One of A Kind Playshop Festival!
Play it Forward Santa Cruz is an all-ages festival of creative playshops, feel-good music and fun experiences demonstrating how play can transform lives and strengthen communities. Brought to you by the Santa Cruz Public Libraries and City of Santa Cruz Parks and Recreation.
Play It Forward features a series of "playshops" led by local community organizations such as the Santa Cruz Warriors, the Santa Cruz MAH, Sweaty Sheep Santa Cruz, CASA of Santa Cruz County, Math with Jamear, Bike Santa Cruz County, Boys & Girls Clubs Of Santa Cruz County CA, Laird's Academy of Martial Arts, Santa Cruz WALTZ - page, Shared Adventures, Santa Cruz County Animal Shelter , Surfrider, and more.
In addition to a full schedule of playshops, attendees can enjoy live music with the Coffee Zombie Collective, Kuzanga Marimba, and the Kuumbwa Jazz Honors Band. Discretion Brewing, Santa Cruz Mountain Brewing, and MJA Vineyards will be pouring beer and wine while Food Trucks offer up some tasty bites.
Sunday • May 19th
12:00 - 4:00pm
Louden Nelson Community Center • 301 Center St. Santa Cruz
Visit the event website
Here
for the Playshop Schedule and and other information. More will be added every day!
View similarly tagged posts: Santa Cruz, Kids, Events, Teens, Performances, Music, STEM/STEAM, Health, Art
Posted by cowend on May 16, 2019 at 9:22 a.m.

Permalink: https://www.santacruzpl.org/news/permalink/866/