SCPL News & Announcements
---

Reach for the Stars: Comets and Asteroids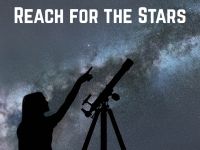 Explore the Final Frontier with the Santa Cruz Public Libraries
Reach for the Stars: Comets & Asteroids
Calling all stargazers! This program will explore the ins and outs of all facets of astronomy for adults and families. Whether you're an experienced astronomer or someone who doesn't know the difference between a comet and an asteroid, this program is for you!
Comets & Asteroids Tuesday • July 17 • 6:30-8:30pm Aptos Library • 7695 Soquel Dr.
In conjunction with the Reach for the Stars program series, we're launching a new service so you can check out a telescope with your library card!
View similarly tagged posts: Summer Reading, Events, Teens, STEM/STEAM, Discussions
Posted by glassa on July 10, 2018 at 5:08 p.m.

Permalink: https://www.santacruzpl.org/news/permalink/722/