SCPL News & Announcements
---

Meet the artist, photographer Michael Singer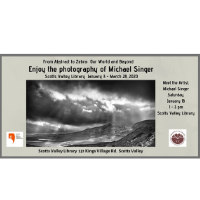 Meet the artist, photographer Michael Singer and enjoy his photography on exhibit at the Scotts Valley Library through March 28, 2020.
From Abstract to Zebra:Our World and Beyond, the photographs of Michael Singer capture the realistic and abstract beauty of the natural and built worlds.
Saturday • January 18th 1:00 -3:00pm Scotts Valley Library •251 Kings Village Road
This is a Friends of Scotts Valley Library program supporting the Scotts Valley Library.
View similarly tagged posts: Events, Exhibits, Art
Posted by phippsa on Jan. 2, 2020 at 11:41 a.m.

Permalink: https://www.santacruzpl.org/news/permalink/1007/