SCPL News & Announcements
---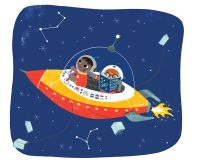 Please Evaluate Our Summer Reading Program Your feedback makes a difference!
We hope you all had as much fun as we did reading, earning more books, and having a great time at events all summer long. We'd like to know how your experience with A Universe of Stories was.Please help us improve our summer reading program next year by filling out THIS BRIEF SURVEY. Please make sure each participant in your household fills out a survey, or complete one for your child.
Por Favor, LLENA LA ENCUESTA DE RESULTADOS para el Programa de Lectura de Verano 2019.
SURVEY DEADLINE: September 9 • 5:00 pm
If you're looking for some really cool summer memories, take a look:
View similarly tagged posts: Surveys, Summer Reading
Posted by cowend on Sept. 5, 2019 at 10:09 a.m.

Permalink: https://www.santacruzpl.org/news/permalink/942/