SCPL News & Announcements
---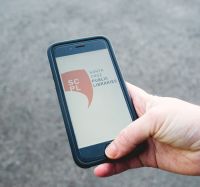 Library Mobile App Not Working
Our mobile app users may have noticed problems with the SCPL on the Go mobile app not working properly or at all after installing the latest OS for both Apple and Android devices.
Some time ago, we became aware that the vendor who made our app would no longer be supporting it. We evaluated multiple platforms for library mobile apps, including the new app the previous vendor would be rolling out. We decided on a mobile app platform that would provide all the same functionality we've come to expect and enjoy at a lower price. The new vendor has been building the new app for the last 6 months, and we are finally in the testing phase before launch.
We were aware that our existing app would begin to break as OS updates were pushed out with a support team updating the app to accomodate operating system changes. We had hoped that by the time the current app became unusable, we would have our new app ready to go. Unfortunately that is not the case. We apologize for this disruption in service.
The good news is that SCPL's new mobile app is almost ready! We think you'll be happy with increased speeds and the same great features you love. We'll let you know when you can download the new app.
View similarly tagged posts: Services, Electronic Resource
Posted by cowend on Oct. 21, 2019 at 11:46 a.m.

Permalink: https://www.santacruzpl.org/news/permalink/978/