SCPL News & Announcements
---

Art Show & Gala Reception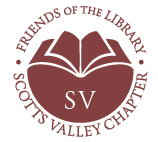 The Friends of the Scotts Valley Library are hosting an exhibition and gala reception to showcase the talents of several artists who work or volunteer at our local libraries.
Why Create Art?
Modern libraries are about much more than books and today's library staff and volunteers comprise a highly creative group. The Friends of the Scotts Valley Library (FSVPL) have long supported art in the library. Roxanne Dwyer, the Friend's art show curator, thought it would be fun to feature the artistic work of some of the people who work at and support the library.
Gala Party
FSVPL is hosting a reception and gala for the artists on October 12, from 5 to 7pm. The public is invited to attend and meet the artists. The event is free (donations appreciated). Light refreshments and wine will be served.
Group Show
Thirteen artists are featured in the show. Their work includes photography, painting, woodcuts, glass, collage, and fabric art. Each artist has been asked to briefly describe why they create art.
Artists:
Sheryl Andersen, volunteer SV Library
Davis Banta, Library aide
Dianna Bond, volunteer SV Library
Roxanne Dwyer, volunteer SV Library
Jennifer Hooker, Librarian-North region
Peggy Kirk, Library aide
Michele Mize, volunteer SV Library
Heather Norquist, Librarian-regional manager
Jim Sullivan, volunteer SV Library
Anthony Thomas, on-call Library employee
Denise Ward, volunteer Aptos Library
Laamsha Young, Library aide
April Zilber, on-call Library assistant and information specialist
Saturday • October 12th 5:00-7:00pm Scotts Valley Library •251 Kings Village Road
The show will run from September 28 to December 28.
View similarly tagged posts: Santa Cruz, Fundraiser, SCPL Friends, Volunteers, Events, Art
Posted by glassa on Oct. 3, 2019 at 5:16 p.m.

Permalink: https://www.santacruzpl.org/news/permalink/970/