SCPL News & Announcements
---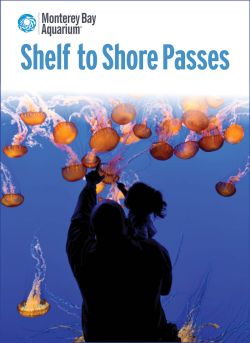 The Santa Cruz Public Libraries is a proud partner of the Monterey Bay Aquarium Shelf to Shore Program, which provides free access to the Monterey Bay Aquarium for low income families. The program, created for families who otherwise could not afford to go, admits up to six family members for a visit. Just visit any Santa Cruz Public Libraries branch or bookmobile stop to request your shelf to shore pass. A valid library card is required. Limit one pass per year per adult library card holder. For free admission to the Aquarium, you must present the ticket with your matching library card at the Aquarium's Main Entrance.
The Shelf to Shore program runs from the day after Labor Day through the Friday before Memorial Day. Currently, a pass is valid from through May 21, 2020 and cannot be used on the following dates:
November 9-11, 2019
November 28-30, 2019
December 1, 2019
December 7-15, 2019
December 25-31, 2019
January 1-5, 2020
January 18-20, 2020
February 15-17, 2020
April 4-19, 2020
April 29, 2018
Who is Eligible? You can get a Shelf to Shore Aquarium pass if you are 18 years old or older and have a valid Santa Cruz Public Library card. Passes are intended for low income families, so if you qualify for Free School Lunch, WIC, SNAP, Meals on Wheels, Medi-Cal, Healthy Families, Healthy Kids, or other similar services, this program is definitely for you.
If you are NOT eligible, you can still visit during the annual Community Open House, the first full week of December every year. For all residents, regardless of income, from the Tri-County region (Monterey, Santa Cruz, San Benito). OR...
Consider Membership in the aquarium. Take advantage of the new Locals Programs with special pricing on admission for locals. For more information, please visit www.montereybayaquarium.org/visit/hours-and-tickets/locals-only.
View similarly tagged posts: Services, STEM/STEAM
Posted by cowend on Oct. 1, 2019 at 1:27 p.m.

Permalink: https://www.santacruzpl.org/news/permalink/964/