SCPL News & Announcements
---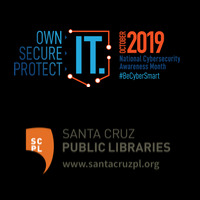 Learn how to protect yourself when surfing the web!
Cybersecurity means staying safe online. Learn safe online habits with experts from Library IT. Bring your questions and concerns to the extended Q & A that follows.
Connect with Confidence
Tuesday • October 1st
6:30-8:00pm Aptos Library 7695 Soquel Drive.
Wednesday • October 2nd
11:00am-12:30pm Garfield Park Library 705 Woodrow Avenue
Tuesday • October 8th
12:30-2:00pm Downtown Library 224 Church Street
Wednesday • October 16th
1:30-3:00pm Scotts Valley Library 251 Kings Village Road
*Tuesday, October 8th class is in Spanish. Martes 8 de octubre la clase es en español.
View similarly tagged posts: Website, Services, Library Classes, Technology, Discussions
Posted by cowend on Oct. 1, 2019 at 5:18 p.m.

Permalink: https://www.santacruzpl.org/news/permalink/962/