SCPL News & Announcements
---

Felton Branch Library Closing Sale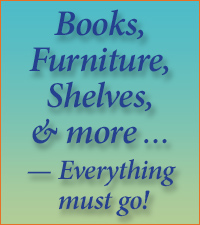 The New Felton Library is opening and we must clear out the old building!
There will be Books, Furniture, Shelving and more … —Everything must go!
Get your holiday shopping done early and stop by the Felton library closing sale.
Saturday • December 7th • 10:00am-3:00pm Felton Library • 6299 Gushee Street
View similarly tagged posts: Fundraiser, SCPL Friends, Closures
Posted by glassa on Nov. 23, 2019 at 6 a.m.

Permalink: https://www.santacruzpl.org/news/permalink/993/