SCPL News & Announcements
---

100 Things To Do In Santa Cruz Before You Die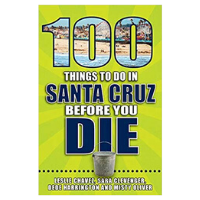 Four local authors: Leslie Chavez, Sara Clevenger, Dede Harrington, and Misty Oliver will talk about their new guide book "100 things to do in Santa Cruz before you Die." The list of places and activities they cover is comprehensive, fun, and quirky, and celebrates the top ways to connect with Santa Cruz and nearby surroundings.
With 100 Things To Do in Santa Cruz Before You Die, you'll find all the recommendations you need to explore this splendid oasis. Whether you're coming for the surf, the family friendly Santa Cruz Beach Boardwalk - one of the oldest seaside amusement park in California, the magnificent redwood forests, or the up-and-coming beer and wine scene, you're in for an unforgettable experience.
Tuesday • November 12th 6:00-7:00pm Live Oak Library •2380 Portola Drive
AND
Thursday • November 14th 4:00-6:00pm Downtown Library • 224 Church St.
View similarly tagged posts: Santa Cruz, Events, Authors
Posted by glassa on Nov. 5, 2019 at 6 a.m.

Permalink: https://www.santacruzpl.org/news/permalink/984/