SCPL News & Announcements
---

Music Together Special Story Time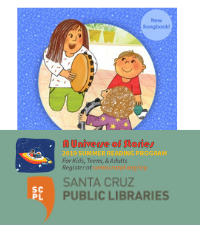 Have a blast at a musical storytime experience
Experience first-hand just how fun learning and playing musically with your child can be. We'll teach you how to take music out of the box and put it into the hearts and hands of your young children, and you!
Scotts Valley Library Tuesday, June 4th • 10:30am
Live Oak Library Wednesday, June 5th • 11:00am
Aptos Library Thursday, June 6th • 11:00am
Branciforte Library Thursday, June 20th • 11:00am
Downtown Library Thursday, June 27th • 10:30am
View similarly tagged posts: Santa Cruz, Kids, Summer Reading, Music
Posted by glassa on May 30, 2019 at 6 a.m.

Permalink: https://www.santacruzpl.org/news/permalink/869/