SCPL News & Announcements
---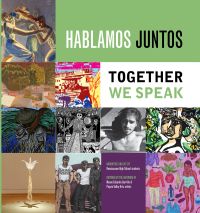 Hablamos Juntos
Hablamos Juntos/Together We Speak: Un Diálogo Visual/a Visual Dialog, is an exhibit exploring visual dialogs created by prominent California Latinx artists. Experience how Latinx artists give voice to and navigate: daily life, current events, social, political and cultural issues, community, ethnicity, as well as personal narratives, myths, and history.
First Friday Santa Cruz Friday May 2 • 5:30 pm - 8:00pm Downtown Library • 224 Church St. Upstairs Meeting Room
The Hablamos Juntos Partnership grew out of the need to provide materials to middle and high school teachers and allies that capture the richness of current Latinx art now.
Museo Eduardo Carrillo sought out kindred organizations like the Pajaro Valley Arts and the Young Writers Program. With PVA, Museo initiated a downtown walking tour based on these banners which faced streetward. They were available 24/7 for everyone to see. This program was funded through a Rydell Grant through the Community Foundation of Santa Cruz County. Then an NEA grant was provided to host an exhibition at Pajaro Valley Arts based on the art and artists in the Hablamos Juntos project.
The writing are excerpts from the Hablamos Juntos book series project with the Young Writers Program. Each student was able to select a unique Latinx art poster curated through Museo. Then, with Mentors trained by YWP, students were able to stimulate their own imaginations as to what the art made them feel, remember and aspire to. They drafted, rewrote and edited again in order to come up with their final written pieces, their writing is a testament to the deep thinkers our community youth are.
Museo Eduardo Carrillo and Young Writers Program engaged Master Teacher Wendy Thompson to develop curriculum which is used in cultivating the writing you see here. The curriculum is free for download through Museo at museoeduardocarrillo.org/educator-resources/guide/.
There are now 5 books in the Hablamos Juntos series which will be available for viewing at the Library. We are also looking ahead to the next installation based on art by five regionally treasured artists. For more information about the purchasing books please contact youngwriterssc@gmail.com.
Thanks to The Arts Council of Santa Cruz County, The City of Santa Cruz, The Community Foundation of Santa Cruz County, The City of Watsonville and the Santa Cruz Public Libraries for their support of this project.
View similarly tagged posts: Santa Cruz, Events, Teens, Art
Posted by cowend on May 3, 2019 at 4:08 p.m.

Permalink: https://www.santacruzpl.org/news/permalink/864/