SCPL News & Announcements
---

Robo Sumo at Scotts Valley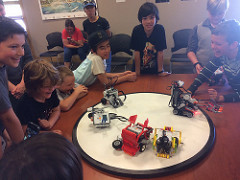 Come compete in the not-so-ancient art of Robo-Sumo. Kids ages 7-17 will work in groups of two to build a competition Lego robot to battle on the last day of class for a Lego trophy. They will build and program their robots to knock the other team's robots out of the circle.
Children must have completed either Robo Basics, prior Robo Sumo, Robo X-games or have some kind of Lego robotics background.
-Thursdays • April 4th- May 23rd
3:30-5:00pm Scotts Valley Library 251 Kings Village Rd.
Registration is Required
CLICK AND REGISTER
View similarly tagged posts: Santa Cruz, Kids, Teens, Library Classes, STEM/STEAM
Posted by glassa on March 19, 2019 at 4:31 p.m.

Permalink: https://www.santacruzpl.org/news/permalink/834/