SCPL News & Announcements
---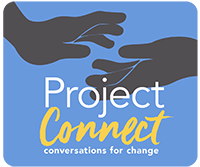 Power: Responsibilities, Misunderstandings & Assumptions
In a nation with differing experiences or perceptions about power and the abuse of power, how do we navigate situations where there is a potential for misunderstandings? This Conversation for Change will deal with unequal status, privilege and power, and the ways we deal with the differences.
Tuesday • July 2 • 5:30 pm - 7:30 pm Downtown Library • 224 Church St. Upstairs Meeting Room
Space is limited. Registration is required. Prior to registering, please review the
Conversation Agreements
.
Conversations for Change are designed to foster greater understanding among individuals who may have different viewpoints. Participants in these small group conversations, guided by a trained host, practice being open and curious about all perspectives, with a focus on learning from one another.
Project Connect is a group of actively engaged citizens who care about bridging divides in our community as a means of preserving our democratic republic and the flourishing of our country. It is a Finding Common Ground team associated with Santa Cruz Indivisible.
REGISTER NOW
View similarly tagged posts: Santa Cruz, Events, Discussions
Posted by cowend on June 26, 2019 at 8:45 a.m.

Permalink: https://www.santacruzpl.org/news/permalink/911/