SCPL News & Announcements
---

CloudLibrary Contract Ending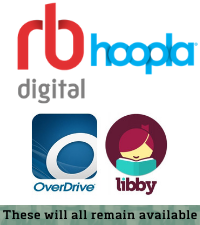 As of July 1st, 2019, SCPL's contract with cloudLibrary will be ending. We will focus our resources on providing in-demand, high quality ebook and e-audio titles from OverDrive/Libby, RBdigital, and hoopla.
Key things to know
Titles from cloudLibrary will transfer to OverDrive, so you will not lose access to these titles.
With our wide selection of titles from RBdigital, OverDrive/Libby, and hoopla, we aim to meet the reading and listening needs of our community.
Holds on cloudLibrary titles will not be transferred to another platform. SCPL staff will be reaching out to those individuals with active holds on cloudLibrary content to provide other options for accessing the title.
By directing our resources to Overdrive, RBdigital and hoopla, we can offer more content and decrease wait times for popular titles.
If you have any questions or concerns about this transition, please do not hesitate to ask staff.
View similarly tagged posts: Website, Services, Electronic Resource, Technology
Posted by glassa on June 23, 2019 at 6 a.m.

Permalink: https://www.santacruzpl.org/news/permalink/907/