SCPL News & Announcements
---

Michael Stroud- Magician!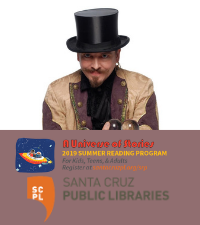 The most amazing magic and variety show in the Bay Area since 1998!
Michael Stroud, aka "Magic Mike", is a 12-time award-winning magician, consultant, inventor, author and lecturer in the art of magic.
He blends comedy, audience participation, circus skills and many surprises with special effects in his performances. Each show is carefully customized for maximum impact and he performs many classic magic feats as well as inventions of his own you will see no one else perform. His repertoire includes magic from around the world- including esoteric art forms many audiences will never get a chance to see live, in person.
La Selva Beach Library Tuesday, June 25th • 10:30am
Aptos Library Tuesday, June 25th • 1:00pm
Branciforte Library Tuesday, June 25th • 3:00pm
View similarly tagged posts: Kids, Summer Reading, Performances
Posted by glassa on June 18, 2019 at 6 a.m.

Permalink: https://www.santacruzpl.org/news/permalink/873/