SCPL News & Announcements
---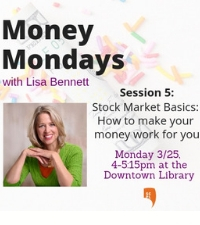 Foundations: Master your Money Mindset
Lisa Bennett wants the next generation to rule the world financially! Come gain understanding of the importance of your personal money mindset, financial planning, credit, insurance, and the necessary education you need to make money work FOR you!
Monday • June 24th 5:15 - 6:30pm Downtown Library • 224 Church St.
View similarly tagged posts: Santa Cruz, Business, Discussions
Posted by glassa on June 17, 2019 at 6 a.m.

Permalink: https://www.santacruzpl.org/news/permalink/818/