SCPL News & Announcements
---

San Lorenzo Valley Community Band Concert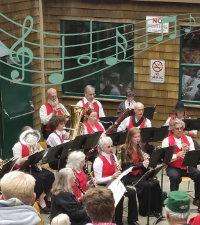 Enjoy music under the redwoods
The San Lorenzo Valley Community Band will be providing a free concert of music from stage and screen.
Bring the whole family and enjoy an evening of band music in the Boulder Creek Library Amphitheater. A selection of music from Stage and Screen by a 30-member orchestral band conducted by Dan Lingenfelter.
This event is sponsored annually by the Boulder Creek Library Friends.
Boulder Creek Library: Outdoor Amphitheater June 15th • 6:00-7:00pm
View similarly tagged posts: SCPL Friends, Performances, Music
Posted by glassa on June 10, 2019 at 6 a.m.

Permalink: https://www.santacruzpl.org/news/permalink/888/