SCPL News & Announcements
---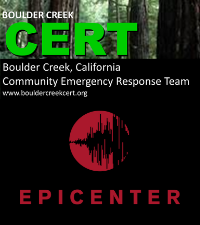 Learn how your community can prepare for natural disasters.
Kevin Foster from the Boulder Creek Community Emergency Response Team (CERT) will discuss how communities can prepare for emergencies and disasters, what to pack in your emergency kit, and how to lend a helping hand during and after an event.
Boulder Creek Library Tuesday, June 18th • 6:30-7:30pm
This lecture is FREE and done in conjunction with Epicenter: The Loma Prieta Earthquake 30th Anniversary Oral Histories Project.
View similarly tagged posts: Santa Cruz, Events, Library Classes, Discussions
Posted by glassa on June 8, 2019 at 6 a.m.

Permalink: https://www.santacruzpl.org/news/permalink/880/