SCPL News & Announcements
---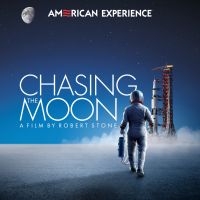 Chasing the Moon
Join us for a screening and discussion of this 49 minute clip. We'll view part 2 from the upcoming American Experience series documentary celebration of the lunar landing, Chasing the Moon, airing on PBS on July 8. Get a sneak peek of one of the most historic moments in America. This program is part of our 2019 Summer Reading Program: A Universe Of Stories.
Thursday • June 13th 6:30 - 8:00 PM Downtown Library • 224 Church St. Upstairs Meeting Room
Clip of Part 2: Saving 1968 (RT 49:14)
People working in the space program "missed the 60s" and the social turmoil that was ravaging the country at the time. After the tragic Apollo 1 fire, confidence in NASA is shaken. More than ever, NASA needs the first unmanned Saturn V rocket launch to succeed and prove to the country that the space program is still worth supporting. Intelligence reports that the Soviets are also making major attempts to get to the moon first accelerates the schedule for the Apollo 8 mission.
Poppy Northcutt, the first woman in an operational role in mission control, gets a lot of attention from press. The 25-year-old mathematics whiz proves herself in the all-male environment and uses her position to promote the idea that women are capable of technical scientific work.
On December 21, 1968, Apollo 8 launches. NASA, the astronauts' families, and rest of the nation follow the Christmas mission that successfully circumnavigates the Moon, and as one American fan writes to astronaut Frank Borman afterwards, "saves 1968."
View similarly tagged posts: Events, Citizen Science, Technology, STEM/STEAM, Discussions
Posted by cowend on June 6, 2019 at 11:18 a.m.

Permalink: https://www.santacruzpl.org/news/permalink/898/