SCPL News & Announcements
---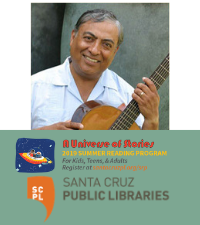 Come to one of these 3 Summer Reading performances with Jose-Luis Orozco!
Join in the fun as celebrated author Jose Luis Orozco encourages children to sing and play in Spanish and English through a mix of Latin American songs, rhymes, stories and games.
José-Luis Orozco is a bilingual educator, children's author, and recording artist who has dedicated his life to creating quality bilingual music, books, and videos for children. He encourages learning of the Spanish language and promotes Latin American culture through his art.
Únase a la diversión mientras el célebre autor José Luis Orozco anima a los niños a cantar y tocar en español e inglés a través de una mezcla de canciones, rimas, historias y juegos latinoamericanos.
osé-Luis Orozco es un educador bilingüe, autor infantil y artista de grabación que ha dedicado su vida a crear música, libros y videos bilingües de calidad para niños. Refuerza el aprendizaje de la lengua española y promueve la cultura latinoamericana a través de su arte.
Scotts Valley Library Wednesday, June 12th • 10:30am
Downtown Library Wednesday, June 19th • 10:30am
Live Oak Library Wednesday, June 26th • 5:00pm
View similarly tagged posts: Kids, Summer Reading, Events, Authors, Music
Posted by glassa on June 5, 2019 at 6 a.m.

Permalink: https://www.santacruzpl.org/news/permalink/868/