SCPL News & Announcements
---

Ancestry Library Edition Workshop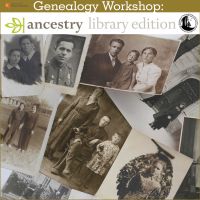 Discover Your Family History Free with Ancestry Library Edition
Genealogical Society of Santa Cruz County member Mike Epperson presents a free workshop on Ancestry's Library Edition. Learn how to get the most out of this useful and popular tool. Participants are encouraged to bring laptops or tablets. Some laptops will be made available.
Saturday • June 15th 10:30am - 12:30pm Scotts Valley Library • 251 Kings Village Rd.
For more information, call 831-427-7717 or email pro@santacruzpl.org.
View similarly tagged posts: Services, Events, Library Classes, Genealogy
Posted by cowend on June 5, 2019 at 6 a.m.

Permalink: https://www.santacruzpl.org/news/permalink/893/