SCPL News & Announcements
---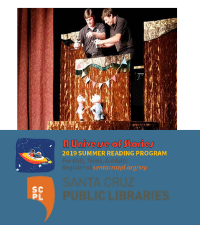 Three Shows at the Library!
Mother Goose Land
Tuesday • July 30th • 10:30am
La Selva Beach Library
• 316 Estrella Avenue
Enter the world of Mother Goose Land, where beloved nursery rhyme characters are brought to life. Mother Goose introduces you to her favorite stories: We encounter Mary and her lamb on their way to school, while Jack and Jill climb up a hill looking for water. Humpty Dumpty is perched high atop a wall waiting for the king's arrival, and Bo-Peep searches for her lost sheep.
Aladdin
Tuesday • July 30th • 1:00pm
Downtown Library
• 224 Church St.
Using traditional music, intricate costumes, and dramatic staging, Fratello presents this magical tale adapted from "The 1,001 Arabian Nights" as it has never been seen before. Friendship and kindness triumph over evil as Aladdin discovers the magical lamp, frees and befriends the powerful genie, thwarts the evil sorcerer, and saves the kingdom.
The Frog Prince
Tuesday • July 30th • 3:30pm
Scotts Valley Library
• 251 Kings Village Rd.
A production of this classic fairy tale follows the spoiled princess Ofelia on her birthday. Her life is changed by a chance meeting with a frog – who we know to be a handsome prince, transformed by a witch. When she loses her new golden ball down a well, the princess promises to grant the frog three wishes in exchange for the ball's recovery. Will Ofelia follow through with her promises, and will the frog turn back into the handsome Prince?
View similarly tagged posts: Santa Cruz, Kids, Summer Reading, Events, Performances
Posted by glassa on July 23, 2019 at 6 a.m.

Permalink: https://www.santacruzpl.org/news/permalink/903/