SCPL News & Announcements
---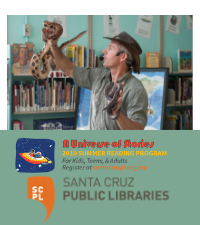 Do you like Lizards, Snakes and Amphibians?
Then you will LOVE Jungle James! Jungle James Animal Adventures continuously strives to shed new light on some of the World's most commonly misunderstood creatures, evoke children's natural sense of curiosity, and teach respect for all living things.
Meet Jungle James and some of his scaly friends at one of three showings throughout the library system.
Felton Community Hall Thursday, July 25th • 11:00am
Downtown Library Thursday, July 25th • 2:00pm
La Selva Beach Library Thursday, July 25th • 5:00pm
View similarly tagged posts: Santa Cruz, Kids, Summer Reading, Events, Teens
Posted by camachoy on July 18, 2019 at 6 a.m.

Permalink: https://www.santacruzpl.org/news/permalink/904/