SCPL News & Announcements
---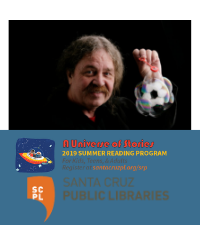 Bubble Magic!!!
Join us for this amazing bubble presentation!
After three appearances on The Tonight Show, Tom was featured on the Best of the Year Tonight Show segment. In his 20-plus-year career as America's Bubble Guy he has appeared on numerous prime time television shows as well as night clubs and universities. Tom's work has been presented to 900 mathematicians at the International Congress of Mathematics in Berlin, Germany. He has been the featured performer for science center Bubble Festivals attracting up to seventeen thousand people in a single weekend. He is as comfortable performing for pre-schoolers as he is when entertaining audiences in the variete theaters of Germany, the Paris Opera, Le Casino nightclub in Monte Carlo, corporate parties, trade shows, or television throughout the world.
Tuesday • July 23rd • 11:00am Branciforte Library • 230 Gault Street
Tuesday • July 23rd • 2:00pm Aptos Library • 7695 Soquel Drive
Tuesday • July 23rd • 4:00pm La Selva Beach Library • 316 Estrella Avenue
Tom has taken his uniquely warm and charming sense of wonder and delight in soap bubbles to audiences around the world. The bubbles are truly exquisite and Tom's lively humor and engaging sense of fun leave his audiences both delighted and intrigued.
View similarly tagged posts: Santa Cruz, Kids, Summer Reading, Events, Performances
Posted by glassa on July 16, 2019 at 6 a.m.

Permalink: https://www.santacruzpl.org/news/permalink/900/