SCPL News & Announcements
---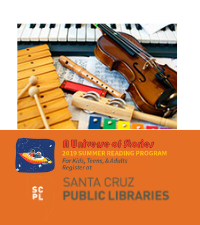 Think like a Composer!
Composing Together brings professional composers and performers directly into schools and public spaces to engage people of all ages, collaborating with them to share, hear and create original works while empowering all of us with the knowledge that our ideas have meaning and value.
Friday • July 12th • 12:30pm Scotts Valley Library • 251 Kings Village Rd
Friday • July 12th • 3:00pm Aptos Library • 7695 Soquel Dr.
View similarly tagged posts: Kids, Summer Reading, Events, Teens, Music
Posted by glassa on July 5, 2019 at 6 a.m.

Permalink: https://www.santacruzpl.org/news/permalink/905/