SCPL News & Announcements
---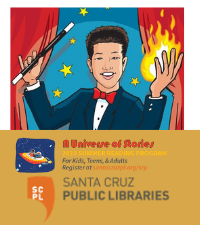 Perry Yan's Magic Show
San Francisco Bay Area Magician Perry Yan offers a magic show has been time tested through thousands of performances at schools, company events, kid's birthday parties and more! Perry's Magic Show will have the kids AND adults entertained from start to finish!
Perry is an award winning magician and balloon artist who preforms all over the bay area. Both kids and adults will enjoy this free family event held at three locations throughout Santa Cruz County.
Thursday • July 11th • 10:30am Live Oak Library • 2380 Portola Drive
Thursday • July 11th • 12:30pm Garfield Park Library • 705 Woodrow Avenue
Thursday • July 11th • 3:00pm Felton Library • 6299 Gushee Street
View similarly tagged posts: Kids, Summer Reading, Events, Teens, Performances
Posted by glassa on July 4, 2019 at 6 a.m.

Permalink: https://www.santacruzpl.org/news/permalink/895/