SCPL News & Announcements
---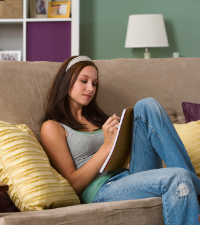 Are you in the 6th-12th grade and love writing?
Join Debra Niemira's Writing Workshops Wednesdays July 10th through July 31st from 1:00-2:30pm at the La Selva Beach Library. Open to aspiring writers grades 6th through 12th.
In this workshop you will learn to:
Strengthen your writing skills
Turn every story into an adventure
Make your characters come to life
Let your imagination be your guide
Debra received her BA in Literature from UCSC. She volunteers as a Writing Assistant with the Young Writers Project, which is affiliated with the Santa Cruz County Office of Education. Over the past three years she's mentored both eighth grade and high school students composing poetry, expository essay, and memoir.
No registration required.
La Selva Beach Library Wednesday, July 10th, 17th, 24th, and 31 st • 1:00-2:30pm
View similarly tagged posts: Kids, Teens, Library Classes, Authors
Posted by glassa on July 3, 2019 at 6 a.m.

Permalink: https://www.santacruzpl.org/news/permalink/908/