SCPL News & Announcements
---

The Art & Science of Spinning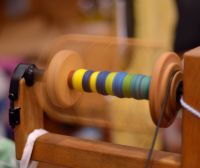 Spinning: A Verb for Staying Warm
Santa Cruz Public Librarian and Master Spinner, Julie Soto presents a talk about the art and science of hand spinning. She will discuss the history and tools of hand spinning, fibers of all kinds, and the basic technology required to produce one's own yarn. The presentation includes plenty of time for questions and there will be time for a hands on exploration.
Thursday • September 5th 6:30 pm - 8:00 pm Downtown Library • 224 Church St.
Julie Soto is an SCPL Librarian at the Live Oak Branch Library. She is also an avid spinner with 16 years experience in the fiber arts. She has owned her own yarn business in Southern California, and sold hand-dyed roving and yarn at craft fairs, yarn stores, renaissance fairs, and SCA events.
Citizen Science is a collaboration between the Santa Cruz Public Libraries; the Santa Cruz Children's Museum of Discovery (SCCMOD), and the University of California, Santa Cruz (UCSC).
We invite you to join us every first Thursday of the month for a presentation and Q&A with local experts and researchers in the field discussing life science, ecology, geology, genetics, climatology and more. Let's connect, inspire and inform each other!
For more information contact pro@santacruzpl.org • 831-427-7717
View similarly tagged posts: Events, Teens, Citizen Science, Art
Posted by cowend on Aug. 23, 2019 at 6 a.m.

Permalink: https://www.santacruzpl.org/news/permalink/928/