SCPL News & Announcements
---

Your most important School Supply!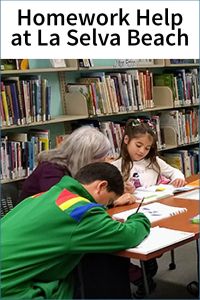 It's Time to go Back-to-School Do You Have the Most Important School Supply?
It's that time again! Make sure you have the most important school supply - your library card!
We're here to help students of all ages learn what they need to succeed. With Library Card Sign-Up Month this September, we're making library cards even more special for our Elementary aged school students in Kindergarten through 6th grade. We're holding a LIBRARY CARD DESIGN CONTEST to create a special card just for kids, made BY kids. K-6 graders are invited to pick up an official entry form either at school, at any branch library or the bookmobile, or by downloading and printing the form here. Submit artwork to your school librarian or at any branch library or the bookmobile between October 1st and November 1st. The 1st place winner will have their art design printed on library cards!
Homework Help
Kids can attend 25 minute reading comprehension tutoring sessions with a certified teacher by appointment through our R.E.A.D.

Reach Every Amazing Detial

program. R.E.A.D takes place Wednesdays 3 - 5 p.m. at the Downtwon Library and the Aptos Library October 2nd through July 29th with holiday breaks. Registration is required. Call 831-427-7717 or email pro@santacruzpl.org.
Kids can get one-on-one in-person homework help with bilingual help available. Homework Help happens every Tuesday from 3 - 5 p.m. at the Live Oak and Branciforte Branches from October 1st through May 29th, with holiday breaks. Drop-in.
Kids can get live online tutoring from certified teachers, skill building exercises, test prep, and more with Brainfuse HelpNow. You can even upload your paper and have it reviewed and returned the next day!
Another great way for reluctant readers and others to improve their reading skills is to read to a dog or other Therapy Animal at one of our Tales to Tails sessions.
Online subscription research collections for all ages, grade levels, and for educators are just a click away with your library card. Explora for Primary School Students, for Middle School Students, and for High School Students contain authoritative information, images, and video and are amazing research tools. From our homepage, click on Research, then click on Homework Help for our full suite of onlne student resources.
Public computers, in-branch laptop checkout (except at Downtown) and WiFi are avilable at every branch, and

wireless printing

isnstalled. On-the-go mobile printing is easy and convenient. Print from any Internet connected or Wi-Fi enabled device to any of our library branches.
Teachers and Educators
Adult and Lifelong Learners
View similarly tagged posts: Santa Cruz, Kids, Services, Teens, Electronic Resource, STEM/STEAM
Posted by cowend on Aug. 21, 2019 at 6 a.m.

Permalink: https://www.santacruzpl.org/news/permalink/933/