SCPL News & Announcements
---

Reach for the Stars: How Galaxies Die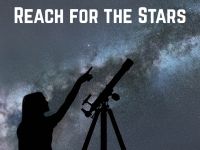 Reach for the Stars with SCPL!
Join Santa Cruz Public Libraries on a whirlwind tour of how galaxies form and the many ways in which they die. Astrophysicist Ph.D. student Viraj Pandya from UCSC will lecture about the lifecycle of a galaxy including galactic-scale warming and sterilization, galactic cannibalism, and astrophysical "winds" driven by supermassive black holes. Afterward, stick around for a virtual reality space tour and some stargazing with one of the library's lendable telescopes.
Garfield Park Tuesday, May 7th • 6:00 - 7:30pm
View similarly tagged posts: Santa Cruz, Events, STEM/STEAM, Discussions
Posted by glassa on April 30, 2019 at 6 a.m.

Permalink: https://www.santacruzpl.org/news/permalink/857/