SCPL News & Announcements
---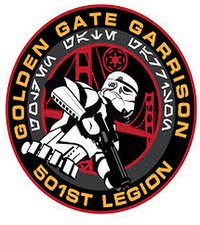 May the 4th be with You
In a library very nearby, young people will dodge Stormtroopers and Mandalorian bounty hunters as they explore the STEAM programming offered throughout the Santa Cruz Public Libraries. Members of the 501st Legion: Golden Gate Garrison will be attendance, a very special droid will be in town, and cosplaying is encouraged.
Hyper-drive over to our partner Atlantis Fantasyworld for more Star Wars fun as they host Free Comic Book Day!
STEAM into the Galaxy Saturday • May 4th • 1:00-4:00pm Downtown Library • 224 Church St.
The Golden Gate Garrison is a unit of the 501st Legion assigned to cover northern California. The main area of operations for the group is the greater San Francisco Bay area. The Legion is an all-volunteer organization dedicated to re-creating movie-accurate costumes such as stormtroopers and Darth Vader. As Bad Guys Doing Good, members of the Legion have helped raise millions of dollars for charity.
View similarly tagged posts: Santa Cruz, Kids, Volunteers, Events, Teens, STEM/STEAM
Posted by glassa on April 24, 2019 at 6 a.m.

Permalink: https://www.santacruzpl.org/news/permalink/854/