SCPL News & Announcements
---

Discover & Go: Tandy Beal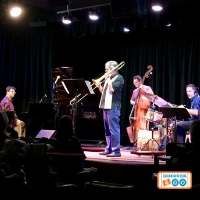 The Jazz Time Machine with Steve Wilson
Tandy Beal and Company presents The Jazz Time Machine, guided by local jazz trombonist, educator, composer and arranger, Steve Wilson in the final monthly concert in the 2018-2019 ArtSmart Family First Saturdays Concert Series. Tandy Beal & Co. has provided a limited number of free tickets to library cardholders through our Discover & Go platform.
On May 4th Take a journey with your pal, grandparent, neighbor, or your children through 100 years of jazz in 60 minutes! Steve Wilson has taught music at Cabrillo College since 1978, and is director of the Kuumbwa Summer Jazz Camp. In 2013, he was voted best local musician in the Santa Cruz Metro. He currently performs in several local ensembles, including Bop of the Bay, the Kitchenettes, Broken English and the Monterey Jazz All-Stars. He'll showcase his knowledge of the deep jazz tradition, starting from the beginning of the 20th century, leading all the way up to today. Steve Wilson and his trio will show us how Jazz transforms through ragtime, swing, be-bop, cool, fusion, pop, hip-hop!
For more information about the Family First Saturday Concert Series, visit tandybeal.com/first-saturdays-family-concert-series.
The Jazz Time Machine Saturday • May 4 • 11:00am Veterans Memorial Building, 846 Fronst St. Downtown Santa Cruz
How to reserve a pass:
To get your pass, visit santacruzpl.discoverandgo.net and log in with your library card number and PIN or password. Search for Tandy Beal & Company in the venue list, or by date. Print your pass, which grants free admission to one adult and one child. You must be in your seat at least 5 minutes before the performance begins, or your ticket may be sold. A limited number of tickets are Free.
If you'd like to support this series directly, please visit the Tandy Beal ticket site for Group Rates and Discounts on Season Passes.
This video shows how to reserve attractions in Discover & Go:
Tandy Beal and Company is proud to partner with sponsors to make this series possible: the David and Lucile Packard Foundation, the Hewlett Foundation, Monterey Peninsula Foundation, Arts Council Santa Cruz County, Lighthouse Bank, and Santa Cruz County Veterans Memorial Building. For more information visit www.tandybeal.com.
View similarly tagged posts: Events, Performances, Music
Posted by glassa on April 20, 2019 at 12:30 a.m.

Permalink: https://www.santacruzpl.org/news/permalink/848/